MASA Architectural Canopies: The leader in extruded aluminum canopy, aluminum frame, store, hanger rod and custom canopy systems.
MASA provides innovative environmental control through creative design.
MASA Architectural Canopies represents an exciting approach to the pre-engineered building components market and is always pro-active in the use of materials to expand industry trends and designs. MASA's broad knowledge separates MASA from the cookie-cutter fabricators to an elite level of custom design and build manufacturers. From start to finish, design through installations, MASA provides superior execution required during each phase of your project to produce top-quality canopy systems.
When quality counts, you can count on MASA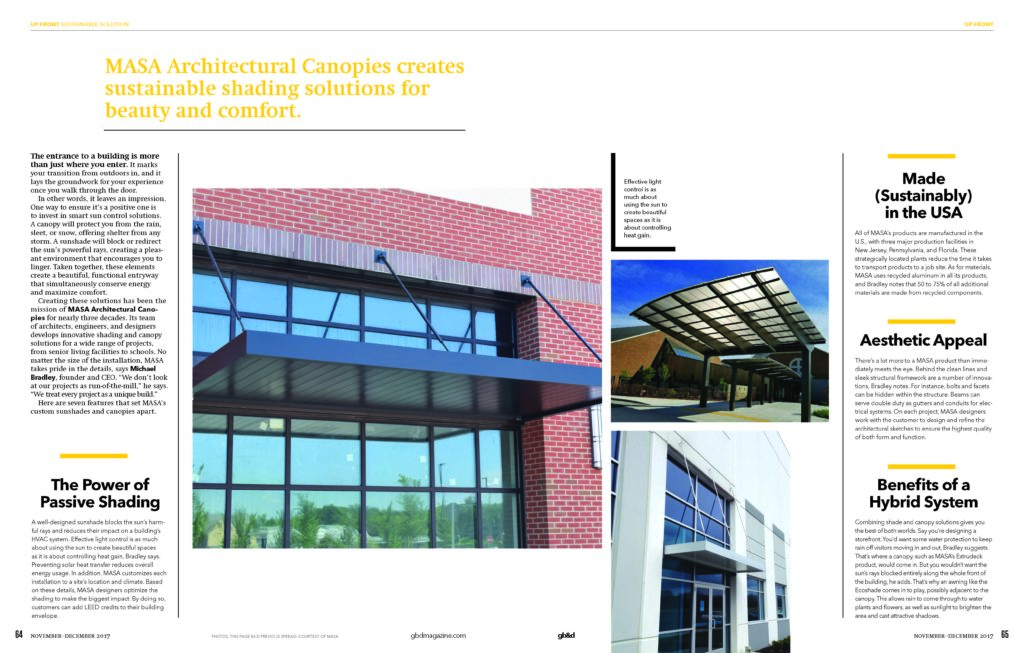 Taking Sun Control to the Next Level
As Featured on gb&d Magazine, by Margaret Poe
MASA Architectural Canopies Creates Sustainable Shading Solutions for Beauty and Comfort
Creating these solutions has been the mission of MASA Architectural Canopies for nearly three decades. Its team of architects, engineers, and designers develops innovative shading and canopy solutions for a wide range of projects, from senior living facilities to schools. No matter the size of the installation, MASA takes pride in the details, says Michael Bradley, founder and CEO. "We don't look at our projects as run-of-the-mill," he says. "We treat every project as a unique build."
Download the article to read more about the seven features that set MASA's custom sunshades and canopies apart from the rest.

WE DESIGN
Our experienced on-staff designers and architects partner with you to translate your needs into canopies and sunshade systems that add to the aesthetic beauty and functional design of your project.
WE BUILD
Our hands-on process extends to the actual manufacture of MASA products. All of our products are produced and assembled in the USA.
WE INSTALL
Our network of experienced installers is equipped to handle any size installation. Our prices are competitive; we offer a fast turnaround on bid requests. When value engineering is your objective we can help. You can rely on our library where we supply supporting data, specs and drawings via our easy on-line downloads.