The outdoor awnings experts at MASA Architectural Canopies have over twenty years' experience designing, producing, and installing commercial outdoor awnings masterpieces. We offer different series of products to meet your outdoor awnings needs.
Extruded Aluminum Outdoor Awnings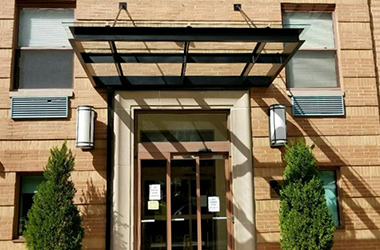 Lightweight Extrudeck outdoor awnings provide weather protection with highly effective water drainage. These durable outdoor awnings meet both International Building Code (IBC) and local building code standards.
Extrudeck outdoor awnings can be attached to your building with your choice of wall plates, such as five-sided star, contemporary, or Doric designs. Choose from flat soffit, capped aluminum, thin, or wavy decking options. Further modify the look of your Extrudeck outdoor awnings with different style profiles.
Ecoshade Outdoor Awnings
Also called "sunshades," Ecoshade outdoor awnings from MASA Architectural Canopies are low-maintenance, lightweight, and LEED-compliant. The metal Ecoshade system absorbs sunshine and heat, reducing temperature extremes within the building it shades.
Ecoshades outdoor awnings are available in both standard and premium finishes—including anodized, resin, and powder coat—with the option for custom color matching. Install a series of Ecoshades outdoor awnings on the sides or corners of each floor of your tower building for superior temperature control and a distinctive architectural feature.
Economical Alumiframe Outdoor Awnings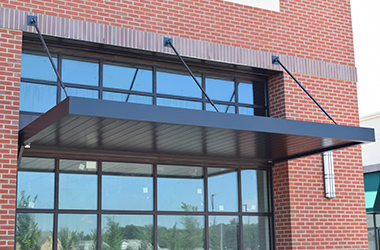 Made to cover doorways, walkways, loading docks, and windows, MASA's Alumiframe outdoor awnings come in a variety of frame designs. These rugged yet lightweight outdoor awnings provide great weather protection, shielding your staff and patrons from rain, sun, and snow throughout the year. Custom commercial graphics, such as your business's name and logo, can be printed on the surfaces of Alumiframe outdoor awnings.
Alumiframe outdoor awnings can be matched with Alumiframe panels and signage for an eye-catching design that reflects your brand colors and makes your building stand out. Ask your design team at MASA Architectural Canopies to review all the options with you.
Vision Outdoor Awnings
Protect your clients, customers, and staff from rain and snow while letting the glorious sunlight shine through to your building with Vision outdoor awnings from MASA Architectural Canopies.
Vision outdoor awnings can be made with curved glass panels for a whimsical, fluid look. Choose from acrylic panels, perforated metal, or laminated glass to get the see-through look you desire in your Vision outdoor awnings. The panels in your Vision outdoor awnings can be clear or tinted, and you have a choice of different frame styles and materials.
Get Inspired with Imagination Outdoor Awnings
Let your imagination run wild with MASA's Imagination outdoor awnings! Completely customizable, Imagination outdoor awnings are assembled on-site, establishing a dramatic, one-of-a-kind look for your place of business.
Create a vintage look with tinted panels crowned by a fancy crest, or order Imagination outdoor awnings with bold architectural curves to convey motion and energy. MASA Architectural Canopies' team of experienced craftsmen can build virtually any type of outdoor awnings you can imagine.
Outdoor Awnings to Make Your Business Stand Out
Whether you choose from the Extrudeck, Ecoshade, Alumiframe, Vision, or Imagination series, outdoor awnings from MASA Architectural Canopies will showcase your business, attracting and welcoming customers to your store, hotel, office park, or other institution.
Call us today at 800-761-7446 to find out how MASA Architectural Canopies can create unique, sturdy, tailor-made outdoor awnings for your business.