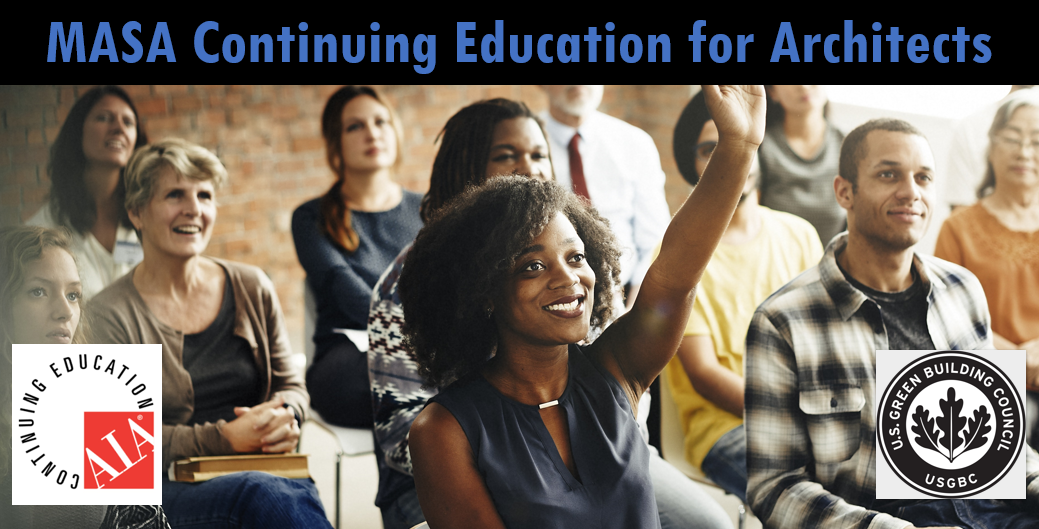 MASA Award-Winning Webinars
MASA is the leader in webinar-based education for architects. We are a nationally-recognized and accredited CE provider through AIA and USGBC. MASA received the 2020 award for webinar excellence through GreenCE:
ALL OF MASA'S COURSES ARE APPROVED FOR AIA HSW CREDIT
Scheduled Courses: We offer multiple live webinars every week with a variety of time slots convenient to our students from coast to coast. Simply choose a course that fits your schedule.
Private Courses: Contact us to sign your office up for a webinar at a time convenient for your architects: sstandridge@architecturalcanopies.com
IMPORTANT INFO:
NO FOOD IS PROVIDED
ALL TIMES ARE LISTED EASTERN TIME ZONE
COURSE DESCRIPTIONS LISTED BELOW CALENDAR
REMEMBER TO INCLUDE YOUR FULL NAME, EMAIL ADDRESS, AND AIA NUMBER WHEN REGISTERING SO YOU RECEIVE CREDIT
Credits Offered:
AIA HSW: All courses – MASA will handle credits and certificates
GBCI: "Mastering Daylight" and "Where Sustainability Meets Innovation" – Participants will self-report
SEPTEMBER
OCTOBER
NOVEMBER
DECEMBER
Check back soon for more dates!
Our Courses
* All MASA courses are AIA accredited and carry 1 AIA LU/HSW credit
The Only Canopy Course You'll Ever Need
AIA 6120.7.2022
1 AIA HSW credit
This course provides a detail-oriented, full-scope plan for integrating canopy and sunshade solutions into the greater building project.
The discussion emphasizes implementing best-practice methods and specification of canopy and sun control devices to gain expert function, maximum sustainability, and state-of-the-art design.
Knowledge gained through the completion of this course will provide vital project know-how, resulting in a streamlined planning process and future projects that are designed specifically for each individual building.
Mastering Daylight
AIA 6120.6.2021; GBCI 0920024455
1 AIA HSW credit; 1 GBCI credit
This course discusses the benefits of a thoughtfully-designed light control system and how to make it work for your project's daylighting and design needs.
The discussion emphasizes implementing best-practice methods and specification of daylighting canopy and sun shade systems to create unique and aesthetically-pleasing architectural building enhancements.
The result will be a full-scope view on successfully repurposing natural light for greater environmental, human health, and aesthetic function.
Where Sustainability Meets Innovation
AIA 6120.5.2020; GBCI 0920023125
1 AIA HSW credit; 1 GBCI credit
This course discusses the impact of buildings on the natural environment and offers insight on designing to minimize those impacts. The discussion emphasizes implementing design methods including specification of technologies such as sun shade and daylighting canopy systems, as well as materials that contain recycled content. Designing as part of a holistic building environment is critical to optimizing energy performance and reducing extraction of natural resources for building materials. LEED credits associated with specifying aluminum sun shade systems are also discussed.
Our Instructor
Steve Standridge – Director of Continuing Education & Marketing
Steve provides continuing education by presenting MASA's courses across the country, facilitating lunch-and-learn opportunities, and conducting webinars. He is also responsible for public relations and marketing at MASA, where he runs comprehensive social media networking and campaigns. He also produces MASA's YouTube videos. Steve's background is in journalism and media
MASA Webinars on GreenCE
Live, monthly instructor-led webinars for credit
AIA LU/HSW and GBCI credit hours available