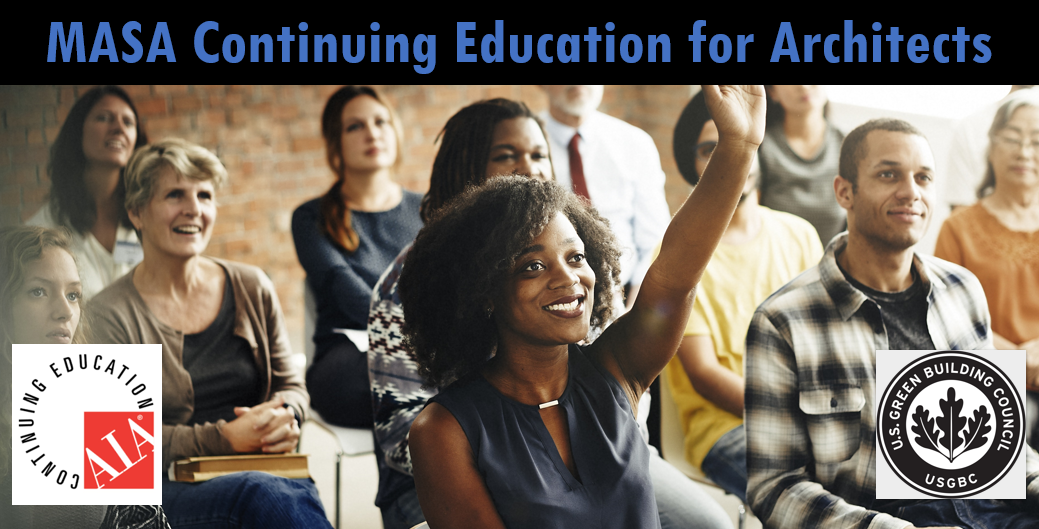 MASA State of the Art Webinars
MASA is the leader in webinar-based education for architects. We are a nationally-recognized and accredited CE provider through AIA and USGBC.
ALL OF MASA'S COURSES ARE APPROVED FOR AIA HSW CREDIT
We offer multiple live webinars every week with a variety of time slots convenient to our students from coast to coast. Simply choose a course that fits your schedule and we look forward to having you join us for some inspiring education.
Our Schedule: Sign Up Now
ALL TIMES ARE LISTED EASTERN TIME ZONE
COURSE DESCRIPTIONS LISTED BELOW CALENDAR
REMEMBER TO INCLUDE YOUR FULL NAME, EMAIL ADDRESS, AND AIA NUMBER WHEN REGISTERING SO YOU RECEIVE CREDIT
Credits Offered:
AIA HSW: All courses – MASA will handle credits and certificates
GBCI: "Daylighting by Design" and "Innovative Environmental Control" – Participants will self-report
SEPTEMBER
OCTOBER
NOVEMBER
DECEMBER
2021 dates coming soon!
Our Courses
* All MASA courses are AIA accredited and carry 1 AIA LU/HSW credit
Don't' Wait: A Canopy Prep Timeline
Canopy systems are important additions to the building envelope, as well as providing a beautiful, unique aesthetic. Additionally, canopy systems require proper planning, knowledge, and a well-kept timeline. Architectural choices should drive the project, and as a result, the cost. In order to achieve the full environmental and green building benefits provided by a canopy system, all details must be worked out early and completely. In this program we'll discuss the importance of knowledge in the planning stages for canopy systems, which includes stylistic and structural elements. We will also discuss structure, attachment, drainage, and other vital operational considerations.
Daylighting by Design
This course discusses the benefits of a thoughtfully-designed light control system and how to make it work for your project's natural lighting and shading needs. The discussion emphasizes implementing design methods including specification of technologies such as sun shade and canopy systems that create useful and aesthetically-pleasing daylighting systems. Additionally, designing to not only minimize solar heat gain and sunlight, but to successfully repurpose it for greater environmental and aesthetic function. LEED credits associated with specifying sun shade and daylighting canopy systems are also discussed.
Integrative Process and Whole Canopy System Solution Design
Canopy systems are sometimes one of those building elements that get taken for granted or overlooked, despite the important role they play in providing coverage, shading and reduced heat gain to a building. The integration of these systems with other exterior building systems also often ends up becoming an afterthought, leaving room for potential errors and less-than-ideal scenarios. In this program we'll discuss the importance of early consideration and integration of your canopy system in the design process while exploring the various benefits whole canopy solutions provide.
Innovative Environmental Control Through Creative Design
This course discusses the implementation of design methods, including the specification of technologies such as sun shade systems and other materials containing recycled content, as part of a holistic building design is critical to reducing energy consumption, optimizing energy performance of a building, and reducing extraction of natural resources for building materials.
Our Instructor
Steve Standridge – Director of Continuing Education & Marketing
Steve provides continuing education by presenting MASA's courses across the country, facilitating lunch-and-learn opportunities, and conducting webinars. He is also responsible for public relations and marketing at MASA, where he runs comprehensive social media networking and campaigns. He also produces MASA's YouTube videos. Steve's background is in journalism and media
MASA Webinars on GreenCE
Live, monthly instructor-led webinars for credit
AIA LU/HSW and GBCI credit hours available