As the cold autumn and winter months approach, businesses are preparing their properties to withstand the perils of winter. From ensuring that central heating units are functioning properly to sealing doors and windows, businesses, organizations, and large corporations have a responsibility to ensure that all workers and guests are protected from the harsh conditions of winter.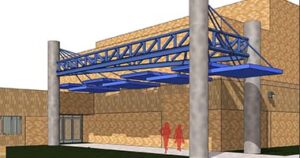 If you're preparing your property for winter, then you need to add walkway covers to the list. Walkway covers are made from quality materials such fiberglass, metal, glass, and wood materials that keep walkways clean and protected from the harsh outdoor elements.
By arming your walkways with covers, you can prevent workers and clients from slips and falls that can result in insurance claims and lawsuits. Walkway covers ensure that snow, rain, ice, and other common elements are kept out of walkways, improving the safety of your building/business.
But reduced insurance claims during winter months isn't the only benefit of walkway covers. Other benefits of walkway covers include:
Increased Beauty & Aesthetic of Properties
Provides Sun & UV Ray Protection
Assists With Wayfinding
Enables Property Expansion to Remote Areas
At MASA Architectural Canopies we design, create, and install walkway covers for businesses and organizations throughout the nation. Utilizing our strong connections with locally based manufacturing plants around the USA, we ensure high-quality and innovative walkway designs that add aesthetic and function to your structure. Whether you're replacing your old walkway covers or looking to have covers installed for the first time, we're here to meet all your needs.
Our team of passionate and energetic professionals have years of combined experience in canopy, awning, and walkway creation, enabling them to create custom and unique designs that set you apart from other businesses/organizations/buildings in your area. Contact us today to learn more about our walkway covers!