Are you looking for a way to spruce up your building or business? Is the exterior of your property drab and boring? Are you looking for a cost-efficient way to improve the aesthetic of your building? If so, then a well-placed door canopy just may be the solution for you.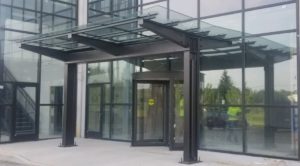 Door canopy designs can add flair and personality to the exterior of your building. Whether you own a small boutique or a large corporation, door canopy designs can add a creative touch to the outside of your property.
But more than beauty and aesthetics, door canopy designs can protect your doors and walkways from harsh elements such as sun, hail, rain, etc. If you're interested in door canopies for your business, but don't know where to begin, here are a few attractive door canopy designs for you to consider:
Apex – Apex door canopy designs offer a classic look and feel to your business. Offering unique structure and personality, these canopies make a good addition to small businesses that are looking to make a lasting impression.
Traditional – Much like a birdhouse, these door canopies come to a point and provide charm to your doorway. While these canopies can be used for any business, they look great on B&Bs and hotels.
Classic -These flat planed door canopies are a sleek and sexy choice that looks great on any large building or professional business.
At MASA Architectural Canopies we are proud to offer businesses and institutions throughout the nation with custom door canopy solutions. Supplying canopy designs to some of the largest corporations and retailers throughout the nation, we have a reputation for excellence when it comes to creating thoughtful, affordable, and innovative door canopy designs.
By handling all aspects of canopy manufacturing in-house, our team of engineers, designers, and architects works together to create customized canopy solutions for your building. Whether you own a small shop or operate a Fortune 500 company, we're here to provide you with the door canopy designs you love at a price you deserve. Contact us today for more info on our door canopy designs!