There are many designs you can choose from with a metal canopy, but an option that you may not have considered is a perforated metal canopy. These metal canopies have holes of different shapes and sizes cut into them but have still proven effective in providing shade for the building and helping to reduce building cooling costs. The team at MASA Architectural Canopies can work with you to develop the right perforated metal canopy for your building. This will provide you with a unique option for your building and business to help you stand out compared to your competitors. Contact us today to learn more.
Benefits of Perforated Metal Canopy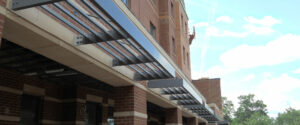 When you opt to add perforated metal canopies to your building, you are likely using recycled materials. And this is something that you can be proud of, that you are using a recycled product, and with the perforations in your metal canopy, you are using even less material to accomplish the same effect. That's a win-win! The perforations also mean your metal canopy is lighter in weight, making it easier to maneuver and hang on your building.
Your perforated metal canopy can have any design that you can think of. For example, if your business is a coffee shop, you could have your logo punched out of the metal canopy. In this way, you not only provide shade for the building to reduce your energy costs but you also reinforce your brand in people's minds. The fact is that the perforations in your metal canopy can be nearly anything that you would want. These perforations also allow for air movement through the canopy helping to prevent hotspots from forming under the metal canopy.
Perforated Metal Canopies are Economical Investments
If you have ever seen a fabric canopy you know that it can deteriorate quite rapidly due to the weather and the sunlight. When you opt for a perforated metal canopy you will enjoy the benefits for many years to come. Our metal canopies can stand up to the weather and sunlight very well without failing. It has the strength to endure for years, and the perforations do not weaken the structure to the point where it will bend or flex.
Whether it is our perforated metal canopies or other building projections and shade options, MASA Architectural Canopies can make it happen. We have major facilities along the East Coast of the United States as well as other partners throughout the country so we are closer than you think. When you are looking for truly custom commercial canopies, look no further than MASA Architectural Canopies.