Aluminum awnings have been around for decades, but that doesn't mean that there haven't been advances in the design and approach to them on commercial buildings. One of the more popular options of aluminum awnings that we install at MASA Architectural Canopies is our Ecoshade building canopy. This is a pre-engineered, aluminum awning system that provides a number of benefits for commercial buildings along with being aesthetically pleasing and interesting. Contact our team today to learn more about adding an Ecoshade building canopy to your existing building or new construction.
Get Your Building LEED Certified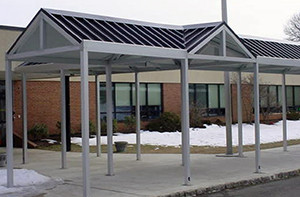 Buildings that are LEED certified have proven that they are much more efficient with the use of energy and a reduction of waste. Part of the equation that can help reduce energy costs is how windows in a building are protected against transferring heat inside the building where the air conditioning needs to run to cool the building. The Ecoshade building canopy is a great answer to this problem, which can help lead to a LEED certification. And when they are installed, we include a thermal brake that separates the aluminum awning from the building to prevent heat transfer into the building.
Because no two buildings are the same, the Ecoshade provides a number of different options in the construction. While a rectangle frame is standard, there are other options for a tapered look, arched, as well as more contemporary look. The Ecoshade has air foils that also can be customized within the frame, and these are what helps to block the sun from shining on windows and raising the interior temperature of the building.
Easy Maintenance With Aluminum Awnings
Because the Ecoshade is an aluminum awning, the maintenance that is required is minimal. With the air foils inside the frame, any rain will naturally clean these foils to keep dust and dirt to a minimum. Aluminum is lightweight as well, making these aluminum awnings easy to install and won't rust unlike other metals. The air foils can also be mechanically actuated to help provide the maximum amount of shade at any point during the day.
Aluminum awnings are a great item to include over windows on a building to help reduce the energy requirements of the building. With our modern designs and multiple configuration options the Ecoshade building canopy is a great option for any commercial building. Talk with the team at MASA Architectural Canopies to learn more about all of the different aluminum awnings and options.