Unless you're an architect, I doubt that you've given much thought to your business's outdoor canopies. When you think of canopies, you may be thinking of cheap cloth materials that you'd find at a local boutique–but you couldn't be more wrong!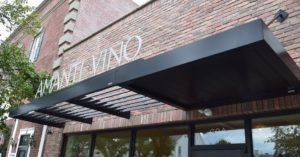 We take custom canopy design to the next level at MASA Architectural Canopies. With sleek and attractive designs, such as louver canopy styles, your business can benefit from all that canopies have to offer without the cheap look.
What Are Louvered Canopies?
Louver canopy designs are sleek and vertical canopies characterized by horizontal stripes that provide shade throughout the day. With a solid roof made of metal materials, your small business or building can benefit from the durability and functionality of louver canopy styles.
Benefits of Louver Canopy Designs
The benefits of louvered canopies are endless! Some of the top reasons why smart businesses are choosing louver canopy designs for their building include:
Louver canopies make a statement with their unique design.
Louver canopy designs last for years.
Louvered canopies provide shade throughout the day, keeping the sun away from windows and doors.
Louvered canopies can decrease energy consumption and lower HVAC use.
Louver canopy designs are easily cleaned and maintained.
At MASA Architectural Canopies we are passionate about helping you create and design innovative louver canopies. Whether you're looking for a nice outdoor area to relax and unwind, or trying to improve the aesthetic of your B&B, we're here to help you make your lover canopy dreams a reality.
As detail-oriented professionals with years of experience in creating innovative designs, we are here to walk you through the entire process from start to finish. Using our strong relationships with suppliers, builders, and technicians, there's no job either big or too small for us to take on! Contact us today to learn more about how we can help you get the canopy of your dreams!