If you own or manage a business or institution with walkways then you should consider investing in walkway covers. Walkway covers offer protection and shelter to workers and clients. Whether you are looking for protection from the sun or the rain, walkway covers do it all and can add a layer of convenience during all four seasons of the year.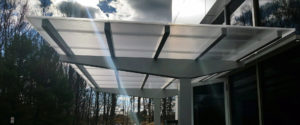 Not only do walkway covers provide practical benefits, but they also offer aesthetic appeal to properties, making them ideal for institutions such as government buildings, hospitals, schools, etc.
If you are looking for walkway covers for your business or building, then here are 3 popular styles to consider:
Dome Covered Walkway Covers – Dome covers are a great addition to walkways. With complete protection from the elements, these dome covers are easily maintained and durable, perfect for schools and other buildings with heavy foot traffic.
Open-Sided Walkway Covers – Looking for ease of movement and shelter? Open-sided covers do their job in keeping you protected while offering easy access to other areas.
Enclosed Walkway Covers – Enclosed walkway covers go beyond protecting from the elements, and can provide safety for you, your workers, your clients, and your building. Need something durable? Enclosed walkways are the way to go.
At MASA Architectural Canopies, we are passionate about helping businesses find, create, and install attractive walkway covers that not only serve a functional purpose but add ambiance and style to your business/building. Whether your property is large or small, we make walkway cover installation hassle-free!
With a full creative staff in-house, we work with you and your budget to create the customized walkway covers you require. From Ecoshade, Vision, Extrudeck styles, and more, if you can dream it, we can do it! To connect with our experienced team of designers, give us a call today at 800-761-7446.