There are a plethora of reasons why you should look into custom canopies for your business/building. But perhaps the most compelling is that custom canopies are completely customized to fit your specific needs. If you can dream it, you can have it with custom canopies!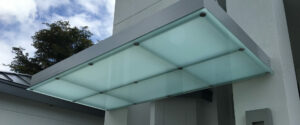 But while custom canopies can be made from nearly any material, it doesn't necessarily mean that every material is the right choice for your custom canopies. Here are the top 4 reasons why aluminum is the superior choice for custom canopies.
1) Easy Installation
You can't go wrong with aluminum canopies. These easy-to-install canopies are lightweight and require less manpower and equipment to put in place. Unlike materials such as steel, aluminum canopies can be hoisted on top of buildings easily–saving you money in installation costs.
2) Rust-Free
Aluminum custom canopies can be easily treated to prevent rust and corrosion. These treatments prevent the need for frequent painting, keeping the luster and shine of aluminum in-tact for a longer time.
3) Visual Consistency
Aluminum custom canopies provide attractive visual representation on all-sides and at all-angles. With finishes on every side, all exposed parts are finished and visually pleasing. Materials such as steel don't have consistent visual representation.
4) Internal Drainage
Downspouts are not an attractive feature, especially on custom canopies. To get the internal drainage effect without the inconvenience of downspouts, have your custom canopy designs made with aluminum materials!
At MASA Architectural Canopies we are setting the standard and exceeding expectations when it comes to creating beautiful and functional custom canopies. Serving a nationwide audience, we work with you to make your custom canopy dreams a reality through design-build-installation services. Understanding that everyone has different tastes and visions for their company, we lend our expertise to turn concept into reality through innovative designs that meet your budget and defy convention.
If you think outside the box, the custom canopies from our Imagination Series are the right choice for you! Give us a call today at 732-453-6120 to chat with an expert about custom canopies for your business/building.