There are a variety of different canopies that are on the market today. Many of them look nice, but are heavy or aren't designed to last for years without significant maintenance. What MASA Architectural Canopies has done is to design an awning system that offers not only structural integrity but also is lightweight and will last for years with minimal maintenance or involvement. Their answer is the Alumiframe Canopy System which can be mounted in many different places and can be designed for a wide variety of applications and can even be used in unique ways. Don't settle for the ordinary canopy when you can have a custom designed Alumiframe canopy from MASA Architectural Canopies.
Spanning The Distance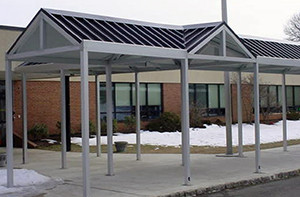 One of the important things that sets the Alumiframe system apart from other metal canopies is that it is strong enough to support spanning longer distances. For example, Alumiframe systems are perfect for providing a canopy over several loading docks to help prevent water, snow, or ice from shedding onto trailers while they are being loaded or unloaded. These aren't short spans, as they could be 30, 40, 50 feet long or more depending on the number of docks. With the lightweight nature of the structure, these distances are no problem.
Features of The Alumiframe System
Perhaps one of the most important features of this system is that it can be done in a variety of shapes and designs. You don't want to have the same thing that your competition has, you want to stand out, and the Alumiframe system allows you to do just that. These awnings are also easy to add lighting to for night security as well as making them different and getting noticed. Another important benefit of this system is that the materials that are used are virtually maintenance-free and will last for years with minimal intervention.
Adding awnings to both new construction as well as existing buildings is easy as well. These awnings are used in a variety of settings, from over main and secondary entryways to mounting them over the windows in your building, as well as putting them over walkways and for handicap ramps. These also come in a wide variety of colors to match your building. No matter what structure you are looking to add awnings to, MASA Architectural Canopies has the Alumiframe system to make it happen.