A plain building is just that: plain. You want a way to spice up the exterior while also adding some functionality, and aluminum awnings from MASA Architectural Canopies can fill those needs as well as others. Sometimes having a contrasting color for your aluminum awning is enough to really set your building apart from the rest. Other times having a unique style to your aluminum awning is called for. You want the canopy to draw attention to the entrance, to the building, and you don't want it to be the same thing that people have seen before. Talk with the professionals at MASA Architectural Canopies to learn about all of the options for your building and needs.
Benefits to an Aluminum Awning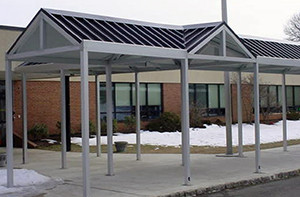 Aluminum awnings are much sturdier than fabric awnings. They are designed to be able to withstand strong winds, beating rain and sun, as well as a snow load in northern climates, or from hail. Fabric awnings will often need to be pulled in to protect it from being damaged, and it will need to be replaced from time to time because it gets worn out by the weather and sun.
Because they are built to last a lot longer than fabric awnings, aluminum awnings are a much more cost-effective option. Aluminum awnings can last for decades because they are so well built, where fabric ones just won't last that long. These awnings, when used over windows, not only provide protection from the elements, but can also help to reduce the stress placed on HVAC systems by reducing the need to cool the space with the awning blocking out some or all of the sunlight streaming through the windows.
Aluminum awnings are low maintenance options for your building. If you live in northern climates, you will likely need to take down your fabric awnings to ensure that they won't be damaged in the harsh cold weather. If you elect to leave them up year-round, you will likely be replacing them every few years as they get damaged from the sun, snow, ice, and other weather issues. Aluminum awnings can withstand these elements all year and won't get damaged.
When you have MASA Architectural Canopies make your aluminum awnings, you have not only a great range of colors to pick from, but you also have the ability to create a unique style to your awnings. Combined, these options will ensure that your building's awnings will not only jazz up your building, but will also capture the eyes of everyone passing by. When you are ready to make your building stand out from the rest, contact MASA Architectural Canopies to learn what options you have.