Building owners want to have their buildings stand out from the rest and not look like an eyesore. One of the most useful ways to get this done is with awnings from MASA Architectural Canopies. We have been doing commercial awnings for decades, and in that time have become a national leader in building awnings. Whether you want awnings as more decorative pieces to add style and color to your building, or you want a more functional awning for your building to provide extra protection against the elements, we have just what you are looking for. Contact us today to learn more about all of your awning options.
Why Use a Metal Awning from MASA Architectural Canopies?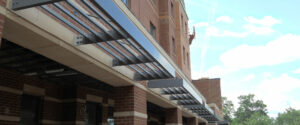 The awnings that you will get from working with MASA Architectural Canopies have the advantage of being able to stand up to nearly any weather that you would encounter. From the beating sun to heavy rains and even snow and ice, our metal awnings won't degrade as fabric awnings do over time. This also means a reduction in the maintenance of your awnings.
Depending on the style of awning that you get for your business, you may be able to expand the footprint of your business to the sidewalks in front of your building. This is great for restaurants, cafes, and other retail businesses. Our awnings also provide shade that helps with regulating the temperature inside the building, leading to less stress on the HVAC system in the building fighting against the heat produced by the sun shining through windows.
Of course, our awnings also provide a way to break up the face of a building by providing a different color that complements the outside of the building, as well as providing a different geometry to visually stimulate people looking at your building.
Custom Awnings for Your Building
MASA Architectural Canopies can produce awnings that are more traditional in nature, or we also can make curved awnings that flow around a building and almost look like works of art. And they aren't just for storefronts on buildings. Our awnings have been installed on warehouse loading docks to help keep the snow and ice from getting inside the building and interfering with the loading and unloading of trucks. Talk with our team today to get started on your unique awnings for your building.