You may notice one at the hotel that you stay at, or there might be a few on the historic building that you shop at. Sometimes they blend in with the building and other times they make a statement that draws your attention. Having custom commercial canopies can make a drab building full of life or can make a historic building look regal. MASA Architectural Canopies has done thousands of custom commercial canopies over the last several decades. Contact us today to get the process started on getting your custom commercial canopy for your building or business.
Benefits of a Metal Canopy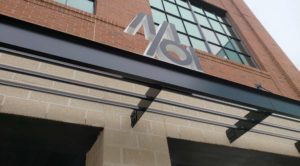 One of the common materials that canopies of all sizes and shapes used to be made of was fabric. The frame was metal, but the covering itself was fabric. Even today there are a number of different fabrics that you could use for your canopy, but eventually, you will need to replace that fabric. Instead, there is an option that will stand up to the elements while continuing to function well and look good, and that's using metal. Specifically, when you work with MASA Architectural Canopies, we will use aluminum to create your custom commercial canopy.
Our aluminum canopies are built to last as well as built to please. You may want to have an aluminum frame with glass, acrylic panels, or even perforated metal to allow sunlight through while providing a level of protection from the elements. Or you simply want a lightweight yet effective and attractive canopy that matches the building décor. Aluminum doesn't rust which means that it will maintain its look for the life of the canopy or building, and it is virtually maintenance-free. Our team is ready for any project, hosting a full creative staff in-house, including engineering, architects, & designers.
Variety in Metal Canopies
We offer a wide range in the variety of awnings and canopies that we manufacture. We can handle small awnings that go over individual windows to long spans over doorways and even large windows to free-standing canopies that provide protection from the weather over walkways and waiting areas. The different colors and designs in all of these mean we have an option that will be perfect for your needs. When you are looking for truly custom commercial canopies, look no further than MASA Architectural Canopies. We will design a long-lasting and beautiful canopy that will attract attention for years to come.