Do you own a commercial building? Are you looking for a way to save money? Are you tired of the way your building looks? Do you just want something new? It could be time to consider metal awnings!
Metal awnings for commercial buildings are a sleek and attractive-looking sustainable awning style that you can never go wrong with! Available in a range of perforated metal designs, metal awnings can be cut to fit your unique design preferences.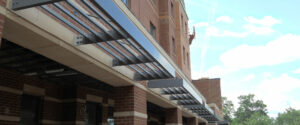 Looking for a metal awning that captures the imagination? Searching for overall value? The skies the limit when it comes to metal awnings for commercial buildings.
Not convinced that metal awnings are a worthwhile investment? Here's why smart property owners are choosing metal awnings for their commercial buildings:
Curbside Appeal
Unlike their cloth canopy relatives, metal awnings are extremely modern, sleek, and aesthetically pleasing—a style that looks good in any decade.
Maintenance
Metal awnings are easy to clean and maintain. Looking a little dingy? Just give it a quick rinse with water, and it's good as new!
Sustainability
In addition to decreasing your building's overall energy bill, most metal awnings are manufactured with repurposed and/or recyclable materials, meaning, you don't have to feel bad when retiring your metal awning in the future.
At MASA Architectural Canopies we design and manufacture metal awnings for commercial buildings. Using perforated metal materials, we can create nearly any awning design to fit the aesthetic and style of your building. From vision canopies, frames, decks, and more, if you can dream it, we can create it!
Far from our humble beginnings in the Northeast, we are now a respected nationwide awning designer and manufacturer certified in each state to provide sealed engineered plans and drawings with guarantees. Contact us today for more info on metal awnings for commercial buildings!