Do you own a commercial business? Be it an office or a retail store or even a school building, you will have a commercial space to set it up. But you have to make sure that the commercial space is such that it is equipped with all kinds of facilities that will make the work experience easier and more convenient. This also includes adding a canopy to your office building. This will protect the people entering or walking into the building from the effects of the weather. Be it sunlight or rain, this canopy can act as a shade over the head. We, at MASA Architectural Canopies, can be the right choice for you. We are an established and experienced company which has been in this field for a long time. We can provide you with the design, build, and installation of extrudeck, aluminum frame, and even a glass canopy system. We are known for our sun control solutions and sturdy products. So, if you are looking for this kind of a protection for your commercial building, then you can opt for us.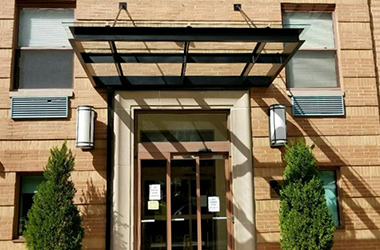 Here, we have put together a few things to check about your glass canopy system. Take a look. 
You need to ensure that the canopy you are installing is made of strong materials which keeps it sturdy. This will make the canopy more durable and save your money. You should check its sturdiness before choosing so that you do not have to go for frequent repairs.
Budget is also essential for any business. You have to make sure that the price of the canopy system is suitable for your budget. You can ask for advance quotes so that you can compare it with others and make a wise choice.
So, if you are thinking of choosing us, then contact us now.