It's no secret that metal awnings for commercial buildings can provide your building with aesthetic appeal. But did you know that metal awnings can do a lot more than make your building look good?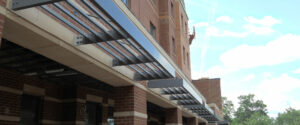 From reduced energy consumption, improved outdoor seating, weather control, and more, metal awnings are never a bad idea for commercial buildings. However, not all metal awnings are created the same!
At MASA Architectural Canopies we go the extra mile to create innovative metal awnings for commercial buildings throughout the United States. Here's why our metal awnings are the superior choice for your business:
Not only do we use a wide selection of recycled materials to create metal awning designs, but we design and manufacture our metal awnings in the USA, saving you time and money on transporting materials for installation.
We don't just focus on the look of your metal awning–we focus on function! From weather control to aesthetic appeal, we combine the concepts of aesthetic and function to bring you the best hybrid solutions for your business.
We understand that effective light control starts with passive shading. By carefully handcrafting our metal awnings to prevent heat transfer, we utilize passive lighting to control high temperatures and save you money by reducing HVAC consumption.
At MASA Architectural Canopies we work with our clients to create personalized and innovative metal awnings for commercial buildings. Whether you own a large corporation or small boutique, we're here to meet all your needs and exceed your expectations with functional and attractive metal awning designs. From traditional awnings styles to customized creations from our Imagination series, we make your metal awning dreams a reality with innovative awning creations.
In addition to creating sustainable metal awnings designs, we are nationally recognized for our in-house finishing process that ensures your complete satisfaction from start to finish. We are also certified in each state to provide sealed engineered plans and drawings with guarantees, enabling us to provide you with metal awnings for commercial buildings no matter where you are! Contact us today to get a quote!