Do you have a commercial business in a separate building with a sprawling exterior? Or are you planning the outdoors of your residential space? Regardless of the kind of exterior you have in your commercial or residential area, you need to make sure that there are awnings in your outdoor décor. Are you wondering why? Well, awnings are well-designed, sturdy, and useful shields that can protect you and your property from the sun and the rain. If there are two buildings in your commercial area, going from one building to another will not be difficult on a sunny afternoon or a rainy day because there will be a shade above your head. Or if you want to enjoy a cup of coffee in your patio while it is raining, you can do so easily if your residential space is equipped with outdoor awnings. We, at MASA Architectural Canopies, can be the right choice for you. We are an experienced and reputed company known for our high-quality sun protection systems and canopies which will provide you with the comfort you need in your commercial or residential areas.We can build, design, and even install these awnings and canopies for you. So, if you need such elements in your outdoor, you can resort to us.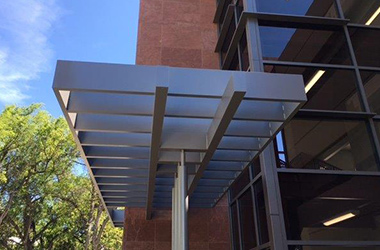 Here, we have put together a few vital questions to ask a company offering you outdoor awnings. Take a look.
What kinds of outdoor awnings do you offer?
There are different materials and styles for the awnings. You have to choose the one according to your outdoor. So, ask about the sort of variety they offer so that you can choose wisely.
How much do your awnings cost?
Budget is essential regardless of whether it is a commercial project or a residential one. So, ask the company about their pricing in order to match it to your budget.
After asking such questions, if you think we can help you with your outdoor awning requirement, then contact us now.