When you think of store awnings what do you imagine? Do you think of retractile cloth awnings for small boutiques? Maybe you think of large metal awnings that provide shade and style for large commercial buildings?
Whatever the case may be, awnings are an integral part of a businesses' aesthetic, and no business should go without awnings for their building! But you may be wondering, where did the awning come from?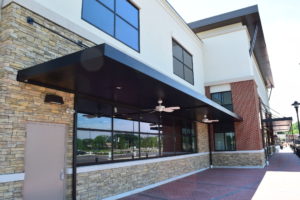 While the creation of the first awning is undocumented, we can trace back the use of woven awnings to ancient Egypt and Syria. In fact, awnings were so popular that the Romans used them to cover coliseums, stadiums, and other outdoor areas.
By the time of the 19th century, the retractable awning has made its appearance. By offering shop owners the flexibility to change the position of awnings based on weather conditions, the retractable awning provided optimal shade control so shops could stay cool during the summer and protected from harsh weather conditions during the winter.
Now store awnings have taken on a whole new meaning! With a vast range of styles and functions available, awning manufacturers use innovative materials to create attractive and innovative awning designs that serve a practical purpose.
At MASA Architectural Canopies, we have nearly three decades of experience offering a wide selection of store awnings to store and shop owners throughout the nation. By working directly with you and your budget, our designers help you bring your store awning designs to life through customized awning creations–if you can imagine it, we can create it! From innovative Ecoshades to Vision store awnings and everything in between, our team of skilled designers and engineers work together to make your awning dreams a reality.
In addition to offering you attractive, custom store awnings, we go above and beyond to provide you the unmatched customer service you deserve by backing all our work with engineered plans and guarantees. Contact us today to learn more about store awnings for your business!