Hotels, hospitals, churches, schools, and many other commercial properties have found that having their outdoor walkways covered is a benefit to their employees, customers, and others who come to their facilities. Whatever your outdoor space looks like, MASA Architectural Canopies can provide walkway covers where ever you need them. Every walkway cover that we offer is made of superior quality metal and is almost maintenance-free. Our team designs, engineers and fabricates every material to guarantee topmost satisfaction levels for customers, architects, and contractors.
Where Are Walkway Covers Used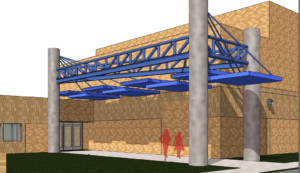 There are lots of applications where having a covered walkway would be ideal for your customers or patients. When airport buildings are built, they sometimes will offer covered walkways to get from the parking lot into the terminal. Commercial property builders will sometimes use covered walkways for customers to walk between different businesses in the commercial building. Hospitals like to utilize them between buildings on the campus so that patients and employees can not only get outside for fresh air but can also be protected from the beating sun as well as rain.
Municipalities who want to encourage people to use public services such as public transport often will put up walkway covers that offer some protection to those waiting for the transport while others can still use the rest of the sidewalk to get where they are going. School systems that want to provide weather protection for their children will put them up for the students to wait until their bus comes to give them a ride home.
And don't just think about the walkway cover itself as being the end. You may want to incorporate your business logo in the framework of the covering. Sometimes it might be important to add LED lighting underneath to provide light when people are using the walkway at night.
Unexpected Benefits of Walkway Covers
If your property is located where there is ice and snow, having a walkway cover over your sidewalks and other paths can present benefits for your maintenance personnel as well as those who regularly use those paths. Those walkway covers help to prevent the build-up of ice and snow on the walkways, meaning less time clearing those paths. Also, less money is spent on ice melting chemicals.
No matter your reasoning for adding walkway covers to your property paths, the pros at MASA Architectural Canopies can make sure that they add value to your property and serve your customers for years to come.