What do you think of when you envision an aluminum canopy in your mind? Most people will have an image of a triangular structure that is mounted over an entrance way, or perhaps a covered walkway. And while these are certainly possible with our alumiframe canopy series, we also like to push the boundaries of what is possible at MASA Architectural Canopies. Utilizing an aluminum frame that is both lightweight and strong we have nearly endless combinations of shapes and sizes that we can construct. And perhaps most interesting is that these frames and panels do not need to just form a canopy to be useful. Talk with our team more today and find out just what is possible with our system.
More Than Just a Canopy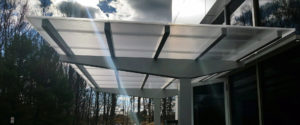 When is a canopy not a canopy? When it is used to dress up the side of a building. For example, you might have a tall building that is plain brick, and you have a candy store on the main floor. Utilizing our aluminum frame as a base to secure to the building, we can design and fabricate different shapes that can then be colored to resemble large candy items. These would then be secured to the aluminum frames on the building, and these giant candies will be visible up and down the street you are on.
We can also make panels of nearly any size to cover the facade of a building with whatever you might imagine. For example, an outdoor gear store might want panels that resemble mountains with the outline of a climber that is positioned to look like they are climbing the mountain. When you work with our design team, we can help bring your ideas to life.
Benefits to Using Our Alumiframe Canopies
Because we use aluminum tubing for the frame of our canopies and to support the panels, they are lightweight yet very supportive and structurally sound. Our aluminum frames will also not rust so they will not lose strength over time due to the corrosion that other metals suffer from. Our alumiframe canopies also secure easily to buildings and other structures and they support a wide range of graphics and colors.
When you are looking for a way to transform your building and to make it stand out, our alumiframe canopies at MASA Architectural Canopies offer simplicity with a high impact result. Contact our team to discuss what your needs are and to develop the right solution that will make your building all that it can be.