From restaurant chains, to downtown retail shops, to apartment buildings and more, canopies on commercial buildings help to dress up a building while providing some much-needed weather protection. When working with MASA Architectural Canopies, we can help to make custom commercial canopies to help provide a distinctive look to your building. Canopies can also elevate the value of the property while giving customers, residents, and others a place to get out of the weather when they enter or leave the building. Contact our professional team today to learn more.
Advantages of Aluminum Canopies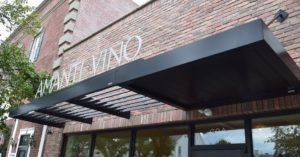 It is tempting to look at cheap canopies to solve some of the issues that your building faces. Usually these are fabric canopies over an inexpensive framework, and they will start to look faded and old very quickly. We use quality aluminum for our canopies that provide a savings in weight over many other canopy types, while also having the ability to stand up to all sorts of weather for many years while looking as good as the first day it was installed.
Aluminum has a high strength-to-weight ratio, which allows for many custom designs to be made that would otherwise be impossible with other materials. Aluminum also does not rust, so it will not lose strength over many years of use. These custom canopies can be made in a variety of shapes and sizes so they can cover a large multiple-entrance area of a business or building.
Some of our custom commercial canopies are used over entryways, while others span much larger areas. In some cases, this additional space is used for a dining area or sitting area, and in other cases, it may be used for additional retail space. No matter what you intend to use your custom commercial canopy for, we will help to make it a perfect fit for your building.
More Than Just a Custom Canopy
That custom commercial canopy that you are wanting to add to your building is also a way to advertise your business. You can incorporate complementary colors of your business with the canopy, along with your business name or the building name if there are multiple businesses inside. In some cases, your custom commercial canopy will extend to other areas, such as over loading docks on a warehouse, or out to a covered bus stop or bench. The team at MASA Architectural Canopies will bring their decades of experience to design your custom commercial canopy. Call us today to start on your custom commercial canopy.