We see them a lot on commercial buildings but also from time to time on residential buildings as well. Door canopies offer a number of benefits to the building and the property owner, and they don't have to be plain afterthoughts either. At MASA Architectural Canopies we know all of the benefits with door canopies, and we also understand how they can help to draw attention to a building or business. In a way, a door canopy is like having an umbrella for your door, and we can help make it an attractive part of the building. Contact our team today to learn more about adding a door canopy to your building.
Benefits of a Door Canopy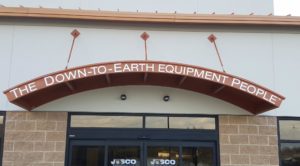 There are several benefits to adding a canopy over your entrance door on your building. First and foremost is that your door and door frame will require less maintenance over the life of the door. This is because it is being shielded from the rain, snow, and sun that will work to deteriorate the door. It is important that your door canopy extend out far enough to provide protection for the entire door, as a short door canopy will only provide protection for the top portion of the door.
This door canopy that you are looking to add can actually be turned into a design feature for the building. Rather than just having a basic rectangle poking out from the building over the door, you might make it an arched covering. There are many ways to have your door canopy be more of a statement piece rather than just a utilitarian feature.
Of course, don't overlook the fact that a door canopy will also provide some shade from the sun for your door, and this will help with reducing your energy needs for the building. It will also provide some shade for the concrete or other materials just outside your door, which also helps in keeping unwanted heat out of the building.
Other Locations for Door Canopies
When you think of a door canopy for your building, most times you are likely thinking of a main entrance where people enter and exit your building. But some buildings have other doors that could also benefit from a door canopy. For example, your building may also have a roll-up door for receiving shipments on a truck. You could add a door canopy over these larger doors, and they accomplish the same thing as an entrance door canopy does. It also helps to provide protection when loading and unloading. The team at MASA Architectural Canopies has been providing state-of-the-art door canopies for more than 20 years. Contact us today to learn more about adding a door canopy to your building.