Awnings as a concept are nothing new. They have been around for decades in a variety of different forms and materials. Their basic function hasn't really changed in all of that time, but what they look like has changed, especially in the last several years. No longer are building and business owners confined to a few designs or styles. These days, modern metal awnings can look like nearly anything yet will still function as they always have. Style is the defining factor today with metal awnings, and at MASA Architectural Canopies we have developed several styles for modern metal awnings that also incorporate years of engineering know-how. Contact our team today to learn more.
Style With Function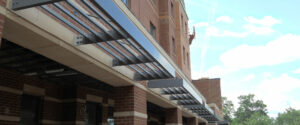 Awnings are designed to provide protection from the elements for buildings over their windows and doors. This can be done in a number of ways, but most of them were more functional than anything. Today, our team can work with aluminum to form any number of designs that will still function as you need them but also provide something that stands out rather than disappears from view.
We utilize aluminum for our metal awnings because it is strong yet lightweight, and it can be used in a variety of settings. We have made modern metal awnings for places such as senior centers, schools, hotels, and many more. Our team handles the entire project from the design work to the building of your awning to the installation. We control all aspects of the project so you only deal with one entity, making life much easier.
Custom Awnings for Your Building
When you work with MASA Architectural Canopies and our aluminum awnings, you don't have to worry about where the awning will be connected to the building. That's because with the light weight of the structure, it does not need to be connected to the main structure of the building as the amount of pressure is very light when compared with other options. Our awnings are also easy to add to a building after it has been built, and we routinely add our modern metal awnings to many buildings that have been standing for years.
Our metal awnings provide a number of benefits over the other styles of awnings that are available today. They last longer than fabric awnings, they do not rust like steel or iron awnings, and they can be designed in ways that other materials can't match due to their weight or flexibility. When you are ready to find out just what kind of awnings you could have on your building, make the call to MASA Architectural Canopies to learn more.