Canopies come in all different shapes and sizes, as well as many different material choices. One aspect that is common to many, if not most canopies, is that they don't allow sunlight to pass through. That all changes when you opt for the Vision Canopy option from MASA Architectural Canopies. Vision Canopies provide for clear or tinted glass, acrylic panels, or even a perforated metal topping that allows natural light to pass through. This makes for a modern look to your canopy no matter the size or shape you need. Contact our team today to learn more about the choices with Vision Canopies.
Custom Canopy to Showcase Your Brand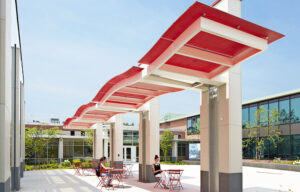 When you work with our team on your Vision Canopy, it will be a feature that will be made just for your needs. With a range of colors to complement your building, plus the flexibility to create nearly any shape and size, the end result will provide the additional protection from the weather you desire while also enhancing the property. Several features and benefits of the Vision Canopy include:
Free-form design opportunities
Endless selection of glass finishes and metal patterns
Custom-designed to exact specifications
Can be designed to match other building elements
Create a lasting focal point
One issue with covering entryways with a canopy is that it makes the entrance darker, even on bright days. The Vision Canopy option negates this downside by allowing the natural light to pass through. The shape of your canopy is up to you and what works best for your building. Whether you want a flat surface, waves that mirror a body of water, or anything in between, the Vision Canopy will allow for a great aesthetic while allowing sunlight through.
Multiple Applications
Our Vision Canopy system can be used in a variety of different applications for commercial buildings. More public facilities such as airports, museums, and other buildings can benefit by having their entrance be a statement for the rest of the building with a wide and impressive awning. A retail property may want to provide outdoor seating while also having weather protection with an impressive canopy. The only limitation is the vision of the property owner.
At MASA Architectural Canopies, we provide a full turn-key project team that will not only design your Vision Canopy system, but can also install it for a full professional completion. Contact our team today to start working on your new Vision Canopy installation for your property.