Practically every building can benefit from a form of a canopy, whether that is for decorative purposes or for practical purposes. Canopy architecture and design is a big component of the aesthetic of a building, and whether it can draw the eyes to it. At MASA Architectural Canopies we have helped thousands of buildings get transformed with the right canopy architecture that complements those buildings. Our team of designers and craftspeople have earned the reputation of quality products as well as installation and support. Contact our team today to learn more about adding canopies to your building.
Getting Canopy Architecture Right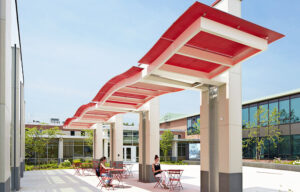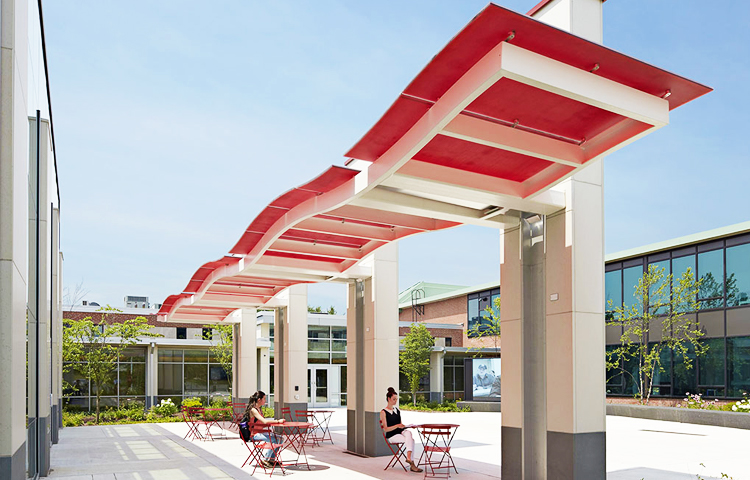 There are thousands of possible candidates for your building's canopies, but most will not be appropriate for the building style or what you are looking to accomplish. It is important that the canopy that you use will provide you with not only the right outcomes but will also match with the style of the building. This is where the engineers at MASA Architectural Canopies come in with their expertise.
For our team, every project is a unique build and that means that what worked on the last building is not the right solution for the next building. The canopy must be the right size and angle in order to provide the passive shading that you are looking for. This will vary based on a number of factors, including the size of the windows, the direction of the windows, the climate of the local area, and more.
The design aspect of a canopy will also include how it is intended to be used. The requirements for a canopy for a library or school will be different from a canopy used for a retirement community center or a theater. With our use of aluminum in our canopy designs, it allows the design to be the feature of the canopy rather than worrying about supporting a heavy design made from steel or other heavier materials.
Canopies Provide a Number of Benefits
Perhaps the first benefit of a well-designed architectural canopy for a building is the curb appeal it adds to the building. Getting people to take notice of the building helps to attract attention to what is inside of the building. Canopies can also provide shelter from the elements, whether that is an intense Summer sun, or a cold, Fall rain. A well-designed canopy will also help the building itself to prevent the heat transfer from the sunlight through the windows and causing a building's equipment to work harder to heat and cool the indoor space.
When you opt to work with MASA Architectural Canopies, you will be working with an organization that has nearly 30 years of experience in crafting custom canopies. Whether your building is a modern and sleek skyscraper, or a 100-year-old brick icon, our aluminum and glass canopies will transform the building. Choose the right canopy architecture and design firm by calling us today.